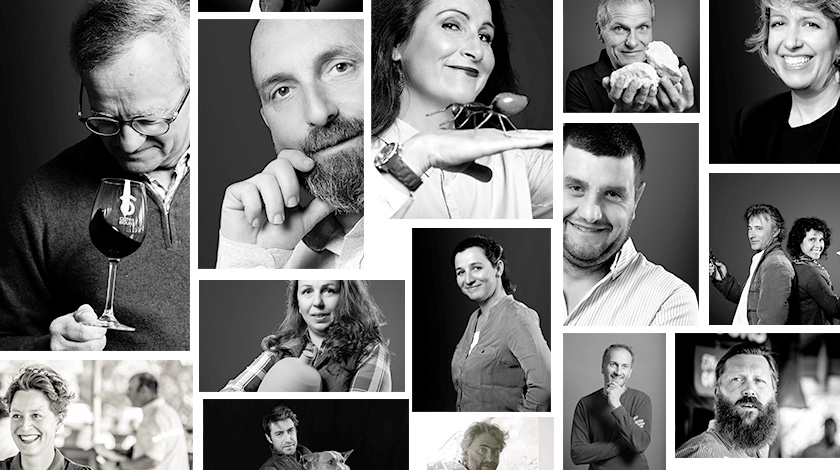 The Appellation
Location
On the Right Bank of the Dordogne and Garonne rivers, 35 km North of Bordeaux (and 20 km via the river). The Côtes de Bourg vineyards stretch over 15 communes, all within the same administrative district.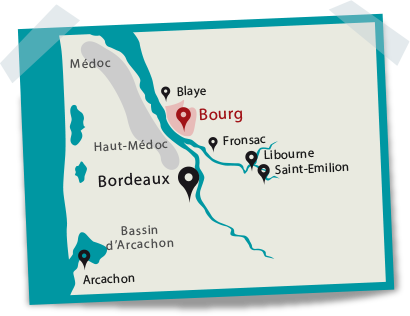 An outstanding terroir
Terroir consists of all the factors that make up an ecosystem: – Soil and subsoil (pedology and geology) – Climate – Topography – History – Plant material (grape variety and rootstock) – and the winegrower's work in the vineyard!
A favourable mesoclimate
A mesoclimate reflects the influence of a specific geographical area on its climatology.
What makes the Côtes de Bourg special compared to the overall Bordeaux climate: -approximately 10% more sunshine, – extremes of temperature that are less by 1-2°C
(a higher sum of temperatures equivalent to Sauternes, Pessac Léognan, Margaux, and Saint-Emilion), – 10 to 25% less rain depending on the year.The Gironde Estuary acts as a thermal buffer (protecting the vines from frost in 1991, for instance).
History
Historians date winegrowing in Bourg from around the 2nd century AD, when Romans planted the first Vitis biturica vines – the ancestors of today's Cabernet. Bourg harbor was used to ship the local wine in the Middle Ages, and vineyards along the estuary grew to keep pace with increasing demand and trade along the river.
One of the oldest AOCs in Bordeaux: – The Côtes de Bourg, Bourg, and Bourgeais appellations were created in 1920 – The official government decrees confirming the Appellation d'Origine Contrôlée (AOC) were signed on 11th September 1936 for red wines and 19th May 1945 for the whites.
Winegrowers
400 producers, including:
2/3 independent winegrowers
Average area under vine: 10 hectares mostly consisting of traditional family structures
1/3 cooperative members
mostly with very small vineyards (< 5 hectares)
4 cooperative cellars (23% of the appellation's total volume)
– The Cave du Bourgeais in Gauriac – Alliance Bourg (with 3 sites in Lansac, Pugnac, and Bourg-Tauriac) – the Vignerons de Tutiac – Châteaux Solidaires
Wine Tourism
Have a look at all various options Bourg Tourit Office and Maison du Vin offer you to discover our region :
Wine Tourism in Côtes de Bourg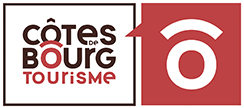 www.tourisme.bourg-en-gironde.fr